Data Dive: Automatic Voter Registration in Georgia
September 2023
3 min read
Automatic Voter Registration (AVR) is generally defined as a system that registers eligible citizens to vote or updates their existing registrations by automatically and electronically transferring relevant information from designated government agencies to election officials, unless a citizen withholds permission for the agency to do so. AVR enhances election integrity and provides for greater efficiency in election administration by improving voter roll accuracy, increasing voter access, and reducing costs. All states with AVR verify voter eligibility, but there are notable variations in how they administer the process. Some states, for example, allow eligible citizens to opt out of AVR during the interaction with the applicable government agency. Other states provide the opt-out opportunity after the agency transaction is completed—typically through a mailer.
CEIR recently released a report examining the impact of AVR in Georgia, which the state implemented in 2016 as part of an effort to modernize its voter registration system and make registration transactions easier for voters. The new report analyzes associated trends in voter registration and voter list accuracy.
Increase in Registrations Through the Department of Driver Services
Georgia operates AVR through its Department of Driver Services (DDS). The figures below show how contact between voters and election officials through DDS and non-DDS sources shifted after AVR's implementation. The data analyzed reflect "registration transactions" that occur through DDS and non-DDS voter registration sources. The DDS registration transactions reflect points of contact citizens have with DDS, such as when renewing a driver's license online after a move. The non-DDS transactions reflect points of contact citizens have with other registration sources, such as when submitting a registration form using the online voter registration portal or in response to a third-party voter registration drive.
After the implementation of AVR, the number of DDS registration transactions increased drastically. From January 2014 to August 2016, DDS registration transactions accounted for 49% of all transactions in Georgia (Figure 1). From January 2018 to August 2020—the same segment of the election cycle four years later—DDS accounted for nearly three-quarters of all registration transactions (Figure 2).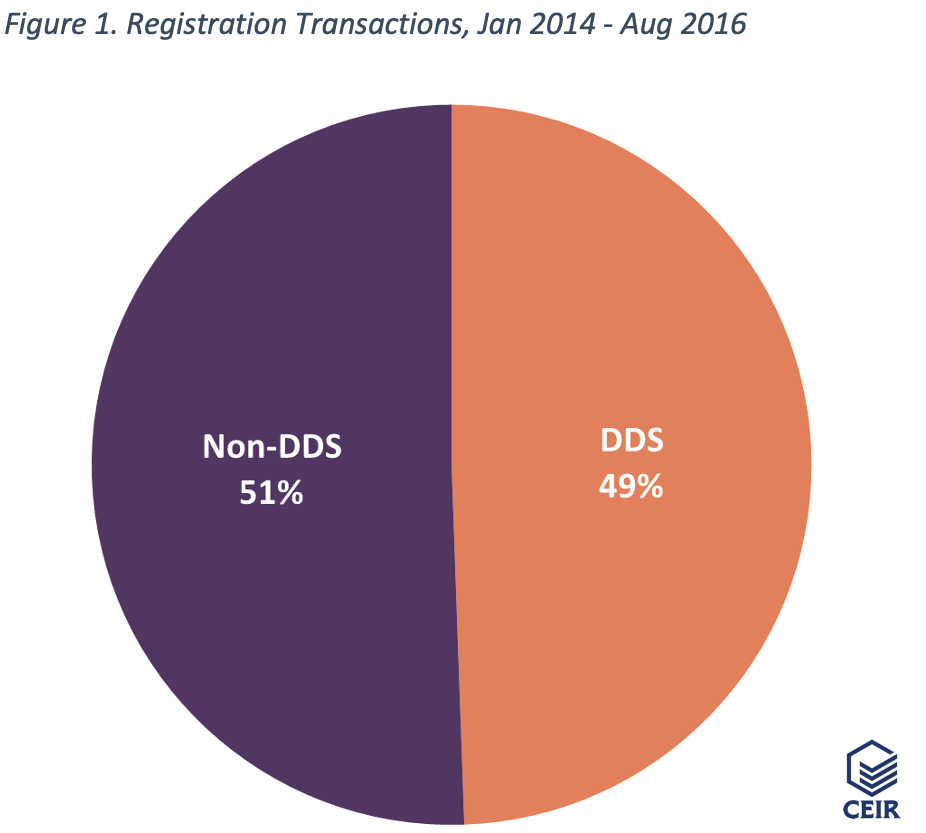 The increase in DDS registration transactions has notable benefits, such as a lower inactivity rate and improved voter list accuracy. When voters apply for, renew, or update information on a driver's license or state ID card, the transaction is considered a contact for voter list maintenance purposes, and each contact resets the clock on a voter record's transfer to inactive status or eventual cancellation. These changes are simultaneously updated in voter registration records, which helps ensure voter rolls are current and more accurate.
By the Numbers
The full report discusses several other encouraging trends related to Georgia's implementation of AVR and the associated increase in DDS registration transactions. Some of these key trends are described below:
New Voter Registrations: Immediately after the state implemented AVR, the median monthly number of new voter registrations increased 78% overall, with a median of 16,608 additional new voters registering each month. New registrations through DDS accounted for 96% of this increase.
Active Voter Registration Rate: In the first four years after AVR's implementation, the active voter registration rate increased by 20 percentage points to 98% of eligible Georgians in 2020. Georgia's 2020 active registration rate was a full 10 percentage points above the national average of 88%.
Inactive Voter Records: Inactive records made up an average of 14% of the voter list in the 16 years before AVR but dropped to just 5% four years after its implementation.
Updated Voter Records: In the years following AVR's implementation, the number of corrections or changes to a voter's birthdate, Social Security number, driver's license number, or mailing address increased by 520%. Nearly all of that increase is attributable to DDS transactions, which also accounted for 93% of the total increase in the number of addresses updated for voters who moved in-state.
Voter Records with Key Identifying Information: Nearly 97% of all voter registration records in Georgia have both a driver's license number and a social security number, with nearly all of the remaining 3% having one or the other.
For more information on AVR in Georgia, including demographic effects and registration transaction patterns, please read "Analyzing the Impacts of Automatic Voter Registration in Georgia" here.
Back to all Research